Balance team to showcase new research and insights at global menopause conference
Impact of balance app to be shared at International Menopause Society World Congress on Menopause
The balance team is proud to be showcasing research at the world's most prestigious menopause conference this week.
The International Menopause Society's (IMS) World Congress on Menopause is a celebration of women's health, as well as highlighting clinical, research and social aspects of the menopause.
The four-day conference, which kicks off in Lisbon, Portugal, on 26 October, will feature two presentations on the impact of the balance app – you can read more about the findings below.
Our app is designed to support women before, during and after their menopause with evidence-based information and support at the touch of a button.
It is used by over 120,000 women from 150 different countries to track symptoms and empower users to seek effective treatments through better conversations with their healthcare practitioners.
Other presentations from Newson Health include looking at unmet need among menopausal women from minority backgrounds, experiences of menopause care after a breast cancer diagnosis and challenges facing menopausal staff working in the NHS.
Balance app and Newson Health founder, GP and Menopause Specialist Dr Louise Newson, said: 'IMS congress is one of the most important events of the year for healthcare professionals involved in menopause care, and I am delighted Newson Health had so many abstracts accepted for presentation.
'We are committed to sharing best practice with international colleagues, as well as highlighting barriers to care affecting women during perimenopause and menopause.
'The whole team and I are excited to be presenting our research and insights, and networking with peers who share our passion for improving access to evidence-based care.'
Click here to view the full IMS programme
Balance app supports users' mental health and boosts confidence to seek treatment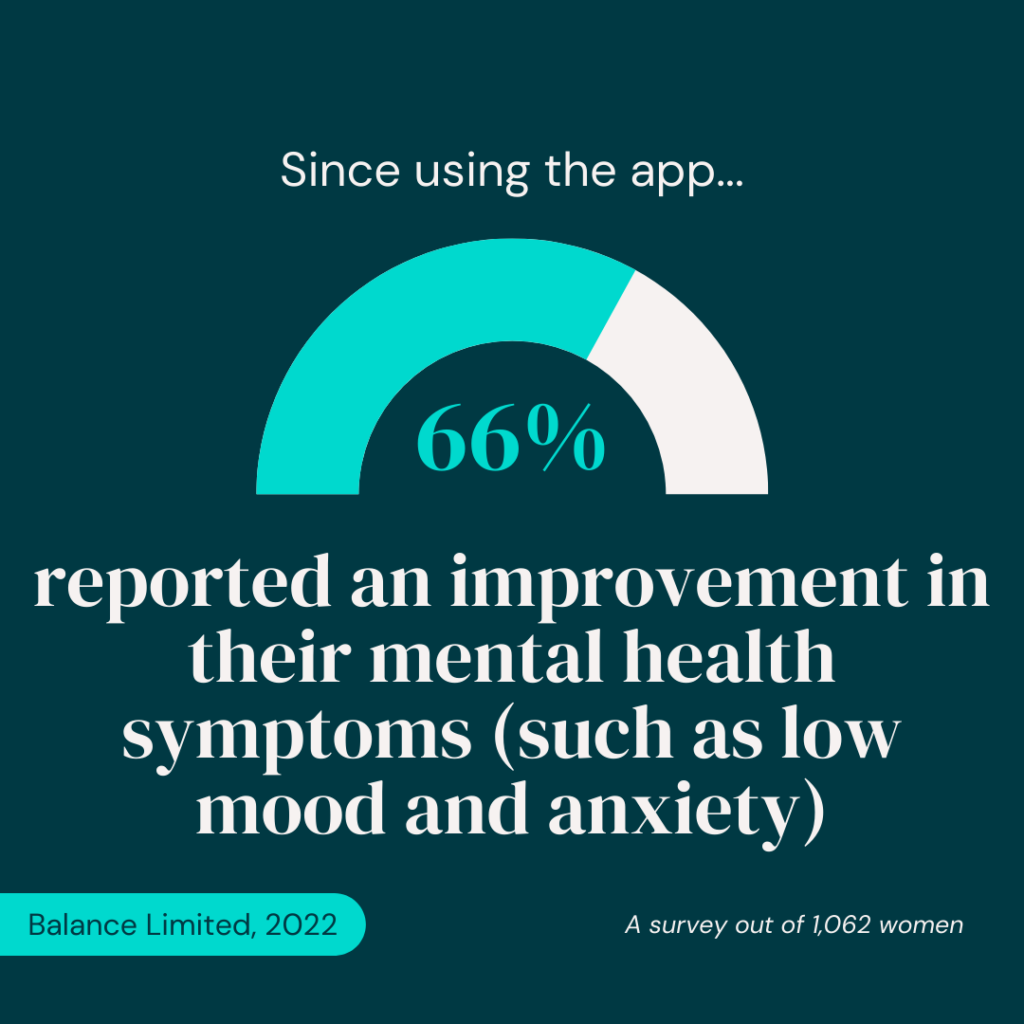 The team will present findings on the impact of using the balance app on women's symptoms, wellbeing and confidence to seek help. Results from 1,062 survey participants showed significant improvements across a range of measures including access to treatment, symptom awareness and empowerment.
Of those surveyed, 73% said they had been able to access the menopause treatment they needed, and after ten months of use there was a marked reduction (of 44%) in menopause related healthcare appointments.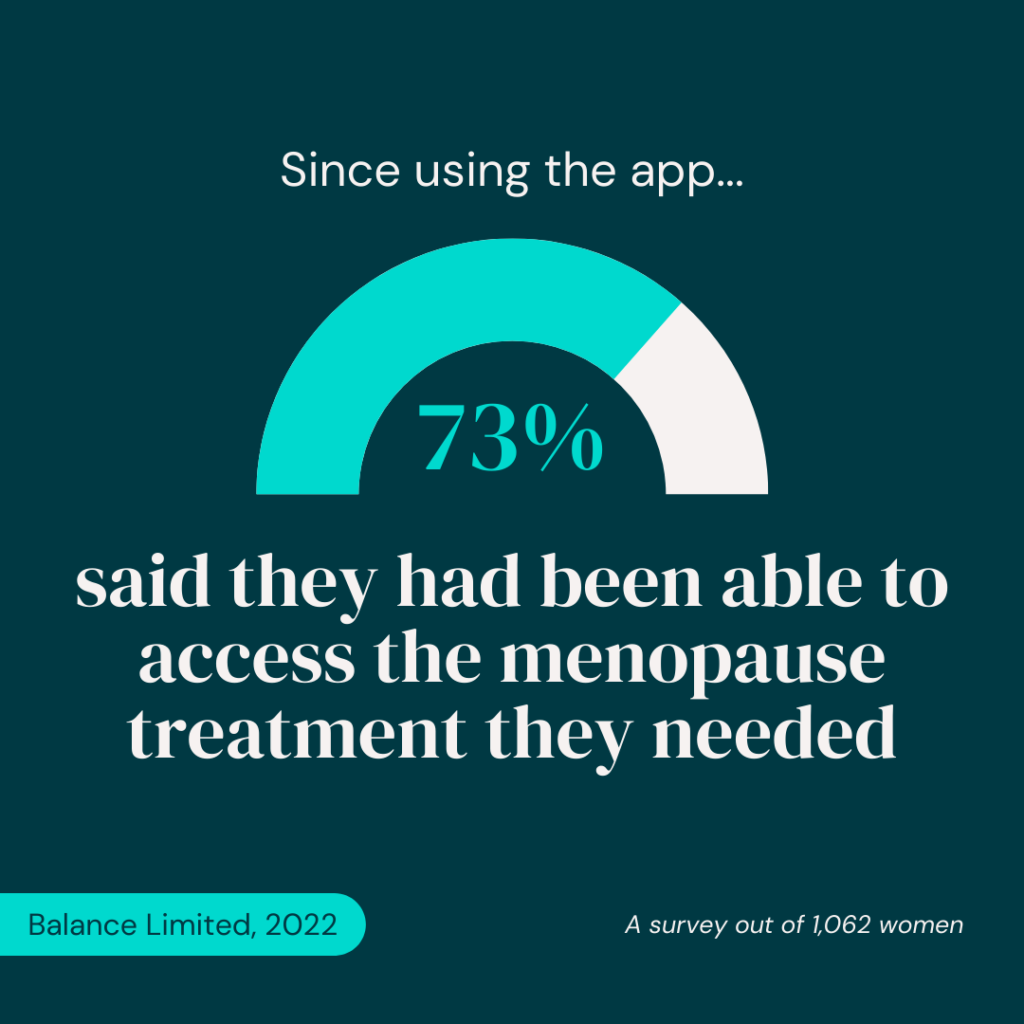 Over a ten-month period, the proportion of users able to recognise symptoms of their menopause increased from 60% to 87% and the number of women reporting an improvement in their mental health symptoms (such as low mood and anxiety) doubled from 33% to 66%.
Another striking finding from the survey relates to how empowered women feel once they have used the app for several months – users' confidence to seek help increased from 47% to 86% after ten months of use.
Most women who completed the survey were in work and the majority said they had become advocates for workplace change and had become more confident talking about the menopause in their workplaces.
These findings demonstrate the importance of digital health solutions to empower women to take control of their own menopause journey leading to improvements in their health, wellbeing and work lives.
Future in our hands: free balance™ app empowers women to become their own advocates will be presented in the Diagnosis of menopause session on 28 October at 09:50-11:20.
Menopause experience improved with use of balance app, survey finds
This presentation will highlight the positive impact of using the balance app for women's understanding of their changing bodies and for gaining control over their symptoms and improving quality of life.
More than 8,000 app users reviewed a range of medical and alternative treatments and their effects on symptoms and quality of life and the research found that:
HRT results in an improvement of symptoms in 88% of women
A significant improvement of symptoms in 46% of women
This is in contrast to only 23% of women who reported significant improvement of mood-related symptoms with antidepressants and 24% who reported significant improvement with black cohosh.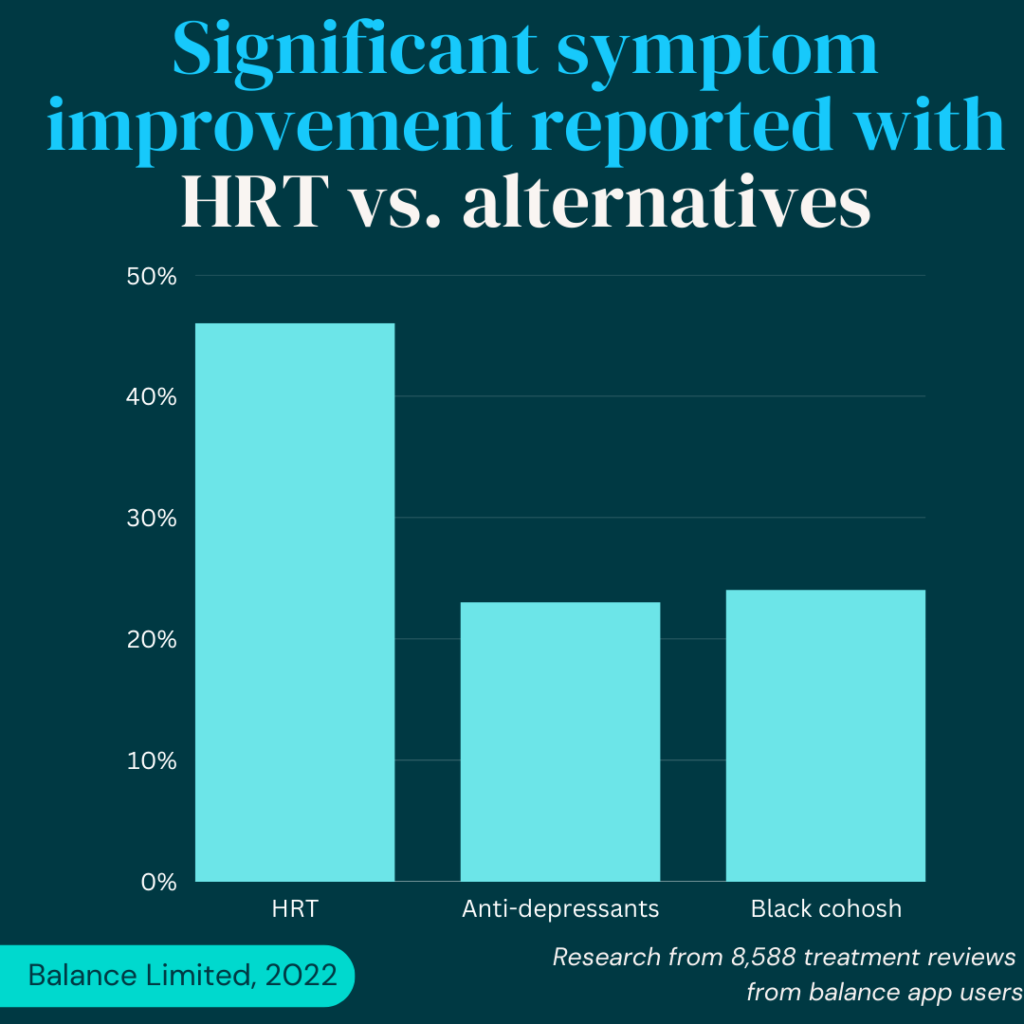 Within the app users can rate their HRT medication against alternatives such as antidepressants, CBT, acupuncture or black cohosh for example. App data pulled from these treatment reviews revealed that combined HRT (including estrogen and progesterone hormones) was the most effective treatment for symptom relief and led to the most improvements in quality of life.
All in the balance™: using a digital app to track menopause symptoms, educate and empower women to take charge will be presented at the Diagnosis of menopause session on 28 October 09:50-11:20