If you are in crisis right now and need help urgently, call 999 or go to A&E. There are also the below services for support. For more options, visit the Helplines Partnership website for a directory of UK helplines

Mind
Information & resources
mind.org.uk
0300 123 3393


Samaritans
24/7 helpline
www.samaritans.org
116 123 (free from any phone)

Shout
Mental health helpline
www.giveusashout.org
Text SHOUT to 85258 to chat by text

Beat
Eating disorder support helpline
help@beateatingdisorders.org.uk
0808 801 0677
Alcohol and the menopause: why cutting down can improve your menopause and overall health
How alcohol can affect your physical and mental health, plus tips to help you thrive during the perimenopause and menopause
Many people choose to take a month off from drinking alcohol during January.
For some, it's a chance to give your body a break after overindulging over the festive period and save some money in the process.
For others, it goes further and forms the start of a significant shift in their relationship with alcohol, its impact on their life and loved ones.
How do you feel about your current alcohol intake? And how does how much you drink impact your perimenopause ad menopause?
Here, we take a look at the issues.
What is Dry January?
Started by the charity Alcohol Change UK, the idea behind Dry January is to abstain from drinking alcohol for a month to improve your general health and wellbeing including improved sleep, energy, mental health and concentration – all very attractive propositions if you're also affected by symptoms of the perimenopause and menopause.
RELATED: Living well through your perimenopause and menopause
What are the current alcohol guidelines?
Current UK guidelines state that to minimise health risks, you shouldn't drink health more than 14 units per week. If you drink near this amount, it's best to spread it evenly over three or more days.
But what is a unit and how will you know how many units you drink a week? It all depends on the strength of the drink and volume in your glass.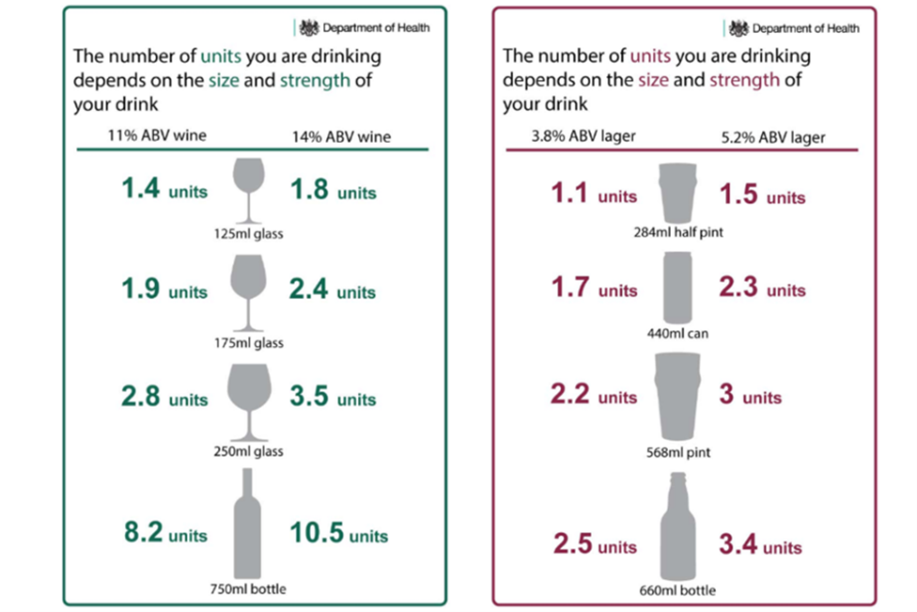 Source: UK Government (2016)
This above from the UK government image shows the varying units of wine and beer according to the size and strength of drink [1].
You can calculate your weekly intake using Alcohol Change UK's online calculator.
RELATED: The Dr Louise Newson Podcast: gut health and addiction – Lindsey Beveridge and Dr Louise Newson
How can alcohol affect my perimenopause or menopause?
As you age, you become more sensitive to alcohol and your body holds less water so any alcohol you consume is less diluted – and perhaps goes some way to explaining hangovers are worse the older you get.
Some women find that alcohol, particularly red wine, triggers hot flushes and night sweats, though the evidence is mixed in this regard [2,3].
Alcohol can also impact your general mental health, with research showing links between excessive drinking is linked with depression, self-harm and suicide [4].
In addition, alcohol disrupts your sleep cycle, so if you are suffering with menopause-related sleep issues this could exacerbate them [5].
RELATED: Sleep and hormones factsheet
Long term consequences of excessive drinking
The risk of many conditions and diseases increase substantially after a decade or more of regularly drinking more than 14 units per week, osteoporosis and bone fractures, breast cancer, heart disease and a deterioration in mental health including depression, as well as an increased risk of many other cancers, stroke, and damage to the liver and nervous system.
Finding support
Higher risk drinking for women is defined as drinking more than 35 units per week.
There are lots of ways to find support if drinking has become a problem for you. Firstly see your GP and try and have an honest discussion. You can search for local sources of support here and there are apps and other online tools that can help you cut down.
Tips for cutting down
Get ready: Set yourself a reduced drink limit and start counting your weekly units. Reduce the amount of alcohol you keep in the house and plan your alcohol budget for the week. Buy smaller glasses to drink your alcohol from and buy low-alcohol or alcohol-free versions of your usual drinks. Check out this article on goal setting for a deeper dive into how to change behaviours.
Menopause wellbeing: how to set goals to boost your health and happiness
Make a plan: Have a few drink-free days every week and plan them in advance. Think of something else to do on those evenings, such as a walk, long bath, baking or a TV catch up. On days when you are going to drink, delaying the first glass by a couple of hours can reduce the overall amount consumed in an evening.
Enjoy alternatives: Get to know the no and low alcohol options and keep a supply of ones you like in the house. Supermarkets now have a wide choice and if you're out in a pub or restaurant, ask what no and low options they have.
Stay hydrated: Don't let yourself get dehydrated or drink on an empty stomach. If you are going out, eat beforehand, avoid doing rounds, or offer to be the designated driver. At home, you could stick to drinking only at dinner time.
Think about family and friends: If telling family and friends is difficult, practice some set phrases in advance such as 'I'm pacing myself', 'I'm on a health kick', 'I'm trying to cut back', and find a no/low alcohol drinking buddy for support. Telling supportive friends and family will help keep you accountable.
For broader information on making healthy lifestyle changes see our Living Well booklet.
References
UK Departments of Health (20126): UK chief medical officers' low risk drinking guidelines (accessed December 2022)
Sievert, L. L., Obermeyer, C. M., Price, K. (2006). 'Determinants of hot flashes and night sweats', Annals of Human Biology, 33(1), pp.4–16. doi.org/10.1080/03014460500421338
Schilling C., Gallicchio L., Miller S.R., Langenberg P., Zacur H., Flaws J.A. (2007), 'Current alcohol use, hormone levels, and hot flashes in midlife women', Fertility and Sterility, 87 (6), pp.1483-6. doi: 10.1016/j.fertnstert.2006.11.033
NHS.uk (2022): 'The risks of drinking too much' (accessed December 2022)
Jehan, S. (2015), 'Sleep disorders in postmenopausal women', Journal of Sleep Disorders and Therapy, 4 (5) 212.